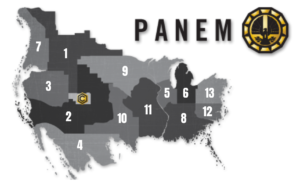 You have been chosen to compete in this year's Walking Games! Log miles to travel between Districts in this summer's challenge. The challenge starts on May 19, the same day that the book The Ballad of Songbirds and Snakes by Suzanne Collins, a prequel to The Hunger Games, is released.
Directions:
Keep track of the number of miles that you walk every day. If you are counting steps, 2,000 steps = 1 mile. This challenge is open to all ages.
Mockingjay:
The Tribute with the most miles logged over the summer will win the title of "Mockingjay" and a tribute survival pack (crossbody hiking pack and matching water bottle). Please turn in your log by August 22 to be considered.
Photos:
We want to celebrate your fitness success with you! Let us know where you are on the map. Tag @polkcountypubliclibraries on Facebook and Instagram or use the hashtag #pcplwalkinggames.
Download your log here.